Save Your Time With Grading Assistant
Quickly transfer grades from 19 edtech platforms into your gradebook with easy-to-use Chrome Extension
Install Chrome Extension
Try the extension for free for 7 days and see how it can simplify your grading process.
How It Works
Install Grading Assistant Chrome Extension
Grab
Open the edtech platform assignment report page and click "Grab data".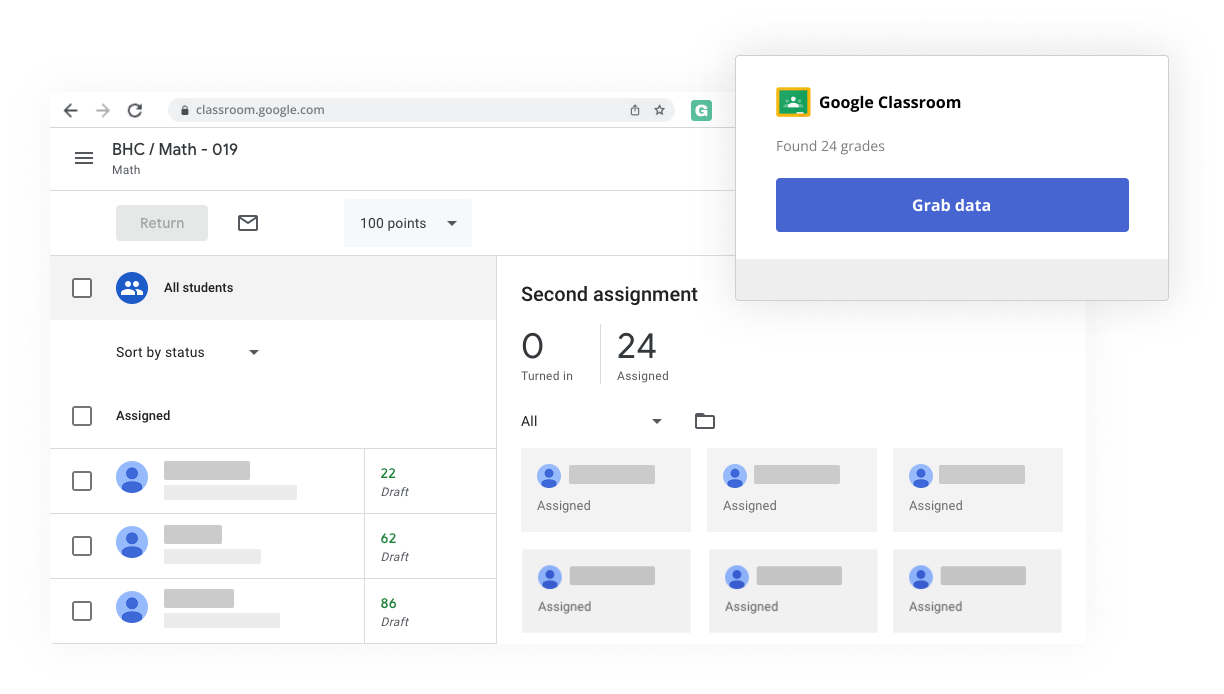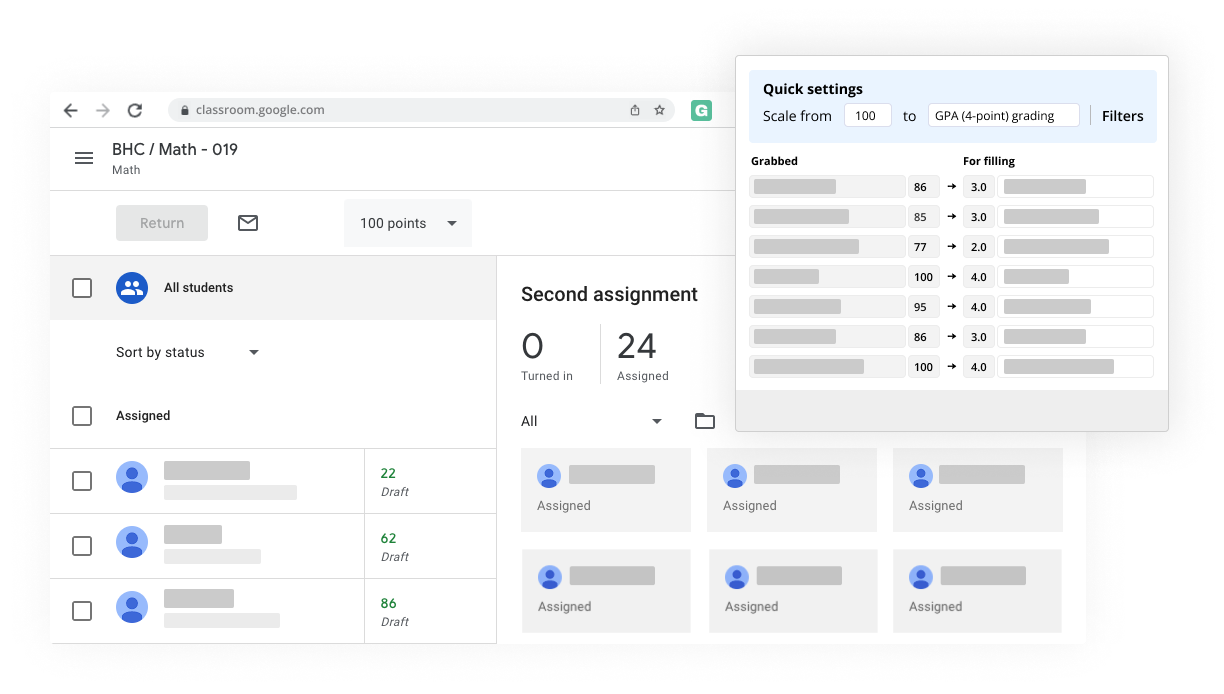 Check
Check, adjust and change grade scale settings for grabbed data as needed.
Fill
Go to the gradebook assignment page and click "Fill data".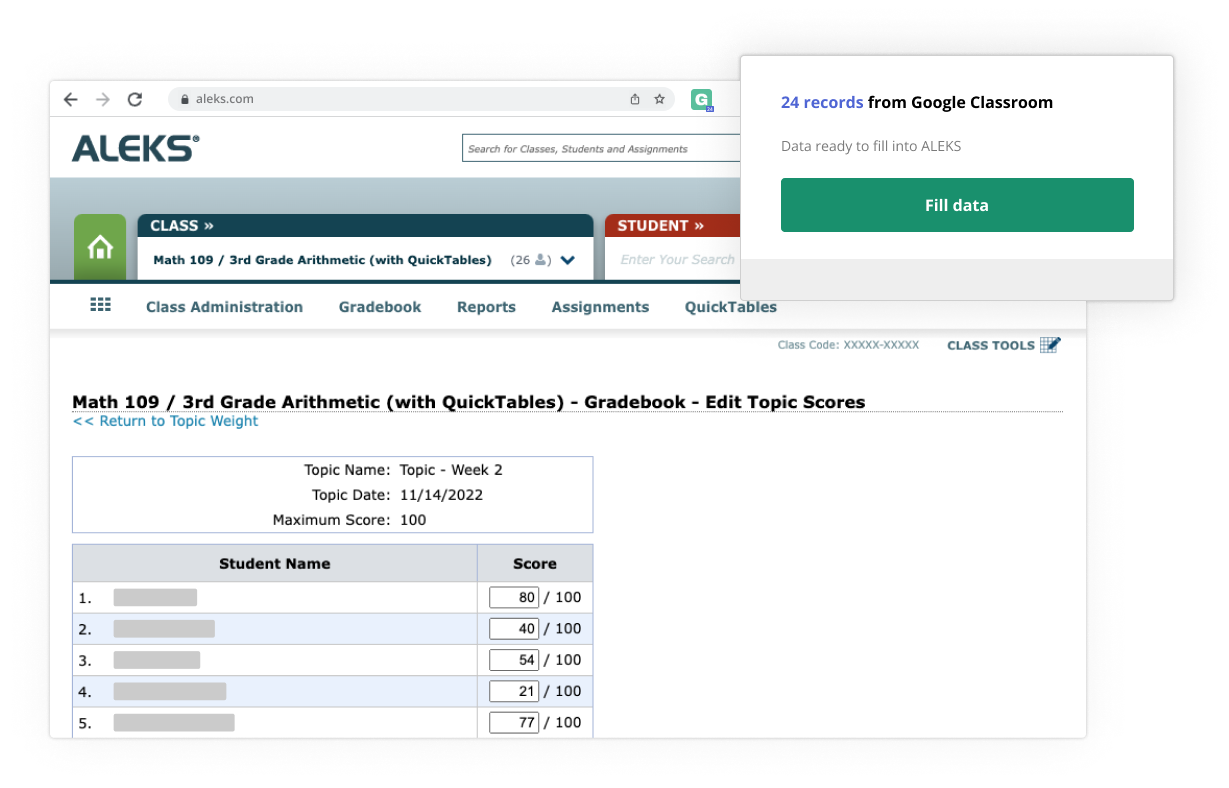 Connect your apps and automate grade transferring
Grading Assistant transfers grades between your edtech platforms in a few clicks with easy-to-use chrome extension, so you can focus on your most important work.
Continue with Google
Why do Teachers Love the Grading Assistant extension?
Save time and effort.
The grade transferring and scaling process is automated, allowing teachers to focus on teaching and engaging with students instead of doing tedious administrative tasks.
Automate grade scaling.
With the extension, teachers can quickly scale grades to any desired range, such as 0-100 or letter grades, with just a few clicks.
Avoid errors and typos.
Automating the grade transferring and scaling process reduces the likelihood of errors and typos, ensuring that grades are accurately transferred and scaled.
Protect student privacy.
The extension does not store student data on servers, ensuring student information remains private and secure.
Frequently Asked Questions
What is a chrome extension?
A chrome extension is a small piece of software that can be added to the Google Chrome web browser to add additional features and functionality. Extensions can do many different things, such as blocking ads, saving passwords, or helping you shop online. They are usually easy to install and can be customized to suit your needs. Some extensions are free to use, while others may require a subscription or payment to access all of their features.
What is Grading Assistant?
Grading Assistant is a Chrome extension that enables teachers to quickly and easily transfer grades from educational technology tools to gradebooks is an essential tool for any educator. It provides a streamlined way to sync grades from various sources, saving teachers time and effort in the often laborious task of gradebook management. With just a few clicks, teachers are able to transfer grades from online courseware, digital assessments, and other educational technology tools directly into their gradebooks. This powerful extension simplifies the grading process, allowing educators to spend less time on tedious tasks and more time focusing on their students' learning.
How do I install the extension?
Go to the Chrome Web Store
Search for "Grade Assistant" in the search bar at the top of the page.
Click on the "Add to Chrome" button next to the extension.
A pop-up window will appear, asking you to confirm the installation. Click on the "Add extension" button to confirm.
The extension will be installed, and a confirmation message will appear in the top-right corner of your browser.
To access the extension, click on the Grade Assistant icon in the toolbar or Extension menu.
Sign in to your account to start using the extension.
Is Grading Assistant chrome extension compatible with different platforms, such as Mac, Windows, Linux, and Chromebooks?
Yes, our chrome extension is compatible with all major platforms, including Mac, Windows, Linux and Chromebooks. To ensure the best experience, we recommend keeping your Chrome browser up to date with the latest version. This will ensure that you have access to all the latest features and security updates.
Get Started For Free
You can't add more hours to the day, but Grading Assistant can save it for you
Continue with Google